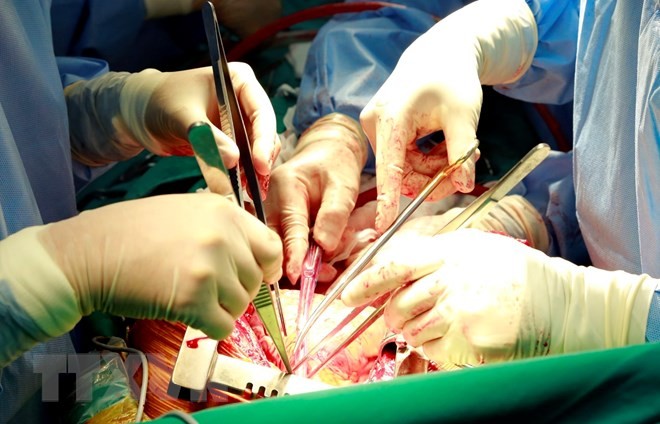 A lung transplant surgery at Military Hospital 108 in Hanoi. (Photo credited by Military Hospital 108)
Vietnam's organ transplant history began with a kidney transplant on June 4, 1992 at Military Hospital 103 in Hanoi for 40-year-old Vu Manh Doan who was in the last stage of chronic kidney failure. The donor was Doan's younger brother, who was 28 years old at the time.
The success of the surgery opened up the door of hope for Vietnamese patients suffering from chronic kidney failure. Five months later, HCMC's Cho Ray Hospital successfully performed its first kidney transplant and the patient is now in good health.
In 2004, 10-year-old Nguyen Thi Diep of Nam Dinh province became the first child patient to receive a transplanted liver at Military Hospital 103. The donor was her father. Diep is now working in the medical sector and her father's health is still good.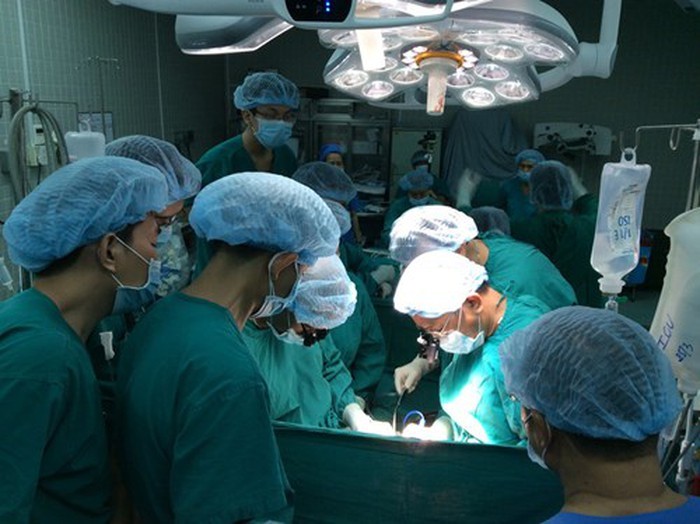 An organ transplant surgery at the Hanoi-based Vietnam-Germany Friendship Hospital.
( Photo: congluan.vn)
In 2007, the Vietnam-Germany Friendship Hospital performed Vietnam's first successful liver transplant on an adult.
Another important turning point was the first successful heart transplant at Military Hospital 103 in 2010.
Once a "less developed" country in the world of organ transplants, Vietnam has now mastered the most important and common organ transplant techniques, successfully performed more than 1,500 cases of kidney, heart, liver, pancreas, and lung transplants.
Over 26 years Vietnam's organ transplant techniques have gradually improved and now approach world level. In June this year, surgeons at Cho Ray Hospital in HCMC carried out a kidney removal from a living donor using robot-assisted laparoscopic surgery.
Doctor Thai Minh Sam, head of the hospital's Department of Urology, said: "Robot-assisted laparoscopic surgery significantly reduces blood loss, pain and recovery time."
Approximately 8,000 Vietnamese patients need transplants each year. However, the number of donors is small, mostly the patients' living relatives.
Professor Doctor Nguyen Tien Quyet, director of the Vietnam-Germany Friendship Hospital, said: "We should encourage people in the community to participate in tissue and organ donation and to register for voluntary donation when still living but brain-dead. Organ donation is a humanitarian act and an aid to research. Communications should be carried out among religious communities, training schools, hospitals, and medical facilities."
Nguồn: vovworld.vn